Das Gewicht einer erfolgreichen Jagd lastet schwer auf den Schultern von Lilly und Van Dex, als sie über einen steinigen Pfad zurück stolpern. Hinter ihnen marschieren drei Xhegi-Jäger. Oben auf dem Felsvorsprung, dem sie sich nähern, steht Dr. Phila, der eingeteilt wurde, die Wachen zu verstärken. Etwa 20 Meter hinter ihm steht der Ornithopter, den die Xhegi für ihre Streifzüge in die Wildnis von Pannet verwenden.

Die Xhegi haben das Leben ihrer drei Gefangenen verschont. Menschliches Leben auf Pannet ist kostbar, besonders solches mit aufgewecktem Verstand und hart arbeitenden Muskeln. Die drei haben gelernt, Xhegi zu verstehen und zu sprechen, sie haben sich an den schrecklichen Geruch der Zhophe-Schwämme gewöhnt, welche die Xhegi als natürliche Luftfilter in ihren Gesichtsmasken verwenden. Sie haben gelernt, die Xhegi-Tuniken richtig anzulegen, um nicht von den unerbittlichen Strahlen der fremden Sonne versengt zu werden. Doch das Überleben auf Pannet ist hart, bisher war kaum eine Minute Zeit, um über eine Flucht nach zu denken.

"Kommt schon! schneller!" ruft Phila, "Da zieht ein Gewitter auf!". Augenblicke später, als seine Kameraden in Hörweite sind, fügt er hinzu: "Ein paar Meilen weiter östlich haben wir einen Nerga-Flyer gesichtet, Anführer Rogdan will aufbrechen, bevor sie zurückkommen und es hier Stress gibt … ". Mit Blick über den hügeligen Horizont im Osten fügt er nachdenklich hinzu: "Manchmal denke ich, wir sollten versuchen, so einen Flyer zu kriegen. Vielleicht schafft man es damit zumindest in den Orbit …"
Die überlebenden Charaktere der ersten Staffel der Octagon-Kampagne befinden sich in interessanten Situationen. Sie könnten dort narrativ bis auf weiteres verbleiben, es gibt aber auch genug Fragen, an die man anknüpfen könnte. Für mich als Referee wäre es o.k. die Kampagne auf unbestimmte Zeit ruhen zu lassen. Mit ein bisschen Vorbereitung könnte ich aber gerne, und jeder Zeit wieder einsteigen.
Welche losen Enden haben wir?
Survival auf Pannet
Liliy, Phila und Van Dex sind bei den Xhegi in Gefangenschaft geraten. Die Xhegi sind ein Nomagen-Jäger-Volk auf Pannet, einem trocken-heißen, von einer giftigen Atmosphäre umgebenen Planeten, am spinnwärtigen Rand des Rhylanor-Subsectors. Die drei Abenteurer sind quasi Sklaven, und müssen hart Arbeiten. Jedoch erscheint die lose strukturierte Gesellschaft der Xhegi durchlässig: belohnt wird, wer sich bewährt. Die Xhegi verfügen über Flugmaschinen, und andere Technologie auf dem Stand der irdischen 1980er Jahre. Die verschiedenen Völker auf Pannet sind verfeindet. Stets geht es um die spärlichen Resourcen des Planeten. Wie geht es weiter mit den drei? Werden Sie den Sklaven-Status innerhalb der Xhegi-Gesellschaft abschütteln? Versuchen Sie zu flüchten? Wie, und wohin? Wie entwickelt sich der Konflikt mit den benachbarten Nerga? Weitere Spieler könnten die Rollen von Xhegi übernehmen. Welcher mutige Xhegi-Jäger würde nicht zu den Sternen aufbrechen wollen, böte sich die Gelegenheit?
Carmen Marshall befindet sich weiterhin bei den Nerga, religiösen Fanatikern, die immerhin sporadisch Kontakt zu den wenigen Händlerschiffen pflegen, die in unregelmäßigen Abständen auf Pannet landen. In welcher Situation sie sich dort befindet, ist völlig unklar. Aber man darf wohl annehmen, dass sie sich nur mit den nobelsten Mitgliedern der Nerga-Gesellschaft zufrieden geben würde. Oder avanciert sie gar selbst zur Nerga-Hohepriesterin?
Ein Cyborg und ein Klon auf Rhylanor
Walter Kemp wurde von seinem Roboter und Mulzac Straw gerettet, und mit der Dark Moon nach Rhylanor gebracht. Wie auch immer es dazu kam, inzwischen ist das Gehirn, und damit die Persönlichkeit Walter Kemps in den Roboter Earl eingebaut worden. Er ist ein Cyborg, physisch mehr Maschine als Mensch … fürs erste jedenfalls. Wird er als intelligenter Roboter auf neue Abenteuer ausziehen? Wird er sich einen synthetischen menschlichen Körper zulegen? Die fortgeschrittene Technologie auf Rhylanor böte da einige Möglichkeiten.
Da Mulzac davon ausgeht, dass Dr. Phila tot ist, wird auf Rhylanor die Life Insurance Philas ausgelöst. Der neue Dr. Phila wird auf dem Wissensstand vom Anfang der Kampagne starten. Mit einer Erinnerung an den früheren Walter Kemp … dass Cyborg-Kemp und Phila-Klon auf Rhylanor zusammen finden, ist naheliegend. Soziale Netzwerke und die gemeinsame militärische Vergangenheit werden dafür sorgen. Kemp hat eine Erinnerung an den echten Dr. Phila, er kann sich sogar erinnern, wo dieser verschollen ist: auf Pannet! … Von Mulzac und der Dark Moon fehlt übrigens jede Spur. Klingt für mich alles nach echten Sci-Fi Problemen!
Forscher, Detektivagentur, Rolling Stone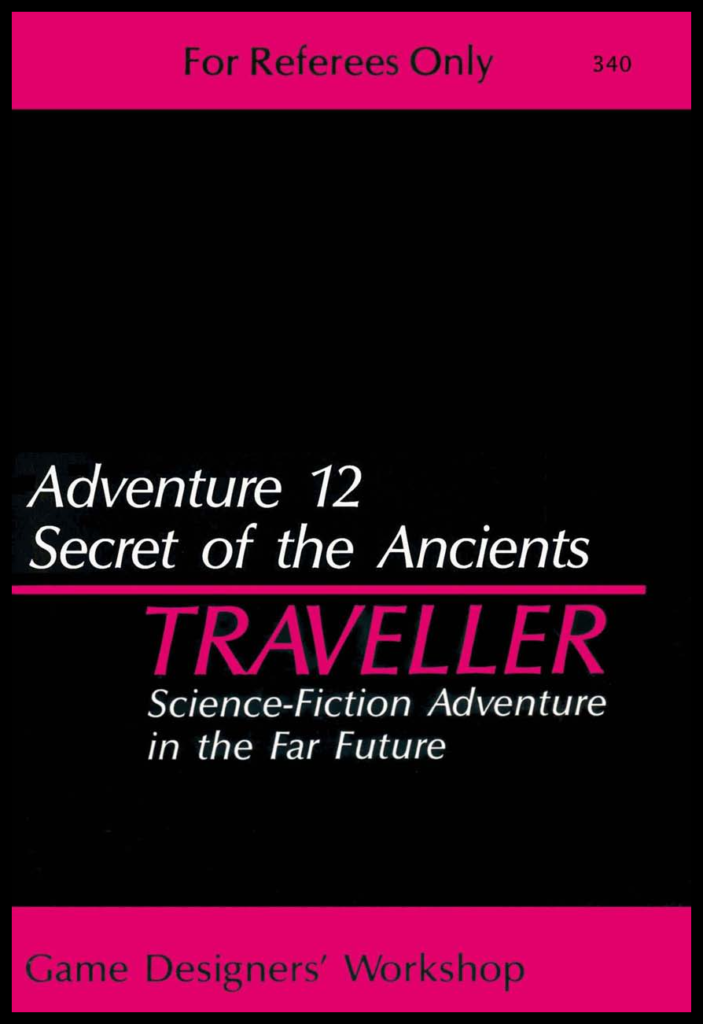 Ekene Megan hat faszinierende Erkenntnisse über die Ancients und deren extrem fortgeschrittene Technologie gewonnen. Ein paar wissenschaftliche Aufsätze und ein selbst publiziertes Buch bieten eine neue berufliche Perspektive: doch zurück in die Forschung? Was gibt es in den Archiven der imperialen Universitäten zu diesem Thema? Geld einwerben für eine archäologische Kernexpedition? Hier könnte man hervorragend das dritte publizierte Abenteuer der Spinward Marches-Serie anschließen: Secret of the Ancients.
Xavier Koerner hat eine Agentur für Private Investigators gegründet. Die ersten Aufträge werden nicht toll sein. Man muss halt nehmen was man kriegen kann: abgehalfterte Ex-Militärs, die nach einer verschollenen Raumschiff-Yacht suchen? O.k., falls uns die mal unter kommt, können wir ja Bescheid geben. Aber Moment, das hier ist interessant: da möchte eine gewisse Kylie Jadin im Auftrag eines großen Wirtschaftsunternehmens auf Rhylanor, nach einer geheimen Fabrik für militärische Klone suchen lassen …
Lem Gerov schließlich ist für alles zu haben. Nach den Ereignissen auf Fulacin hat er eine Working Passage als Engineer auf einem Far Trader bekommen. Er hat genug Kontakte im ganzen Subsektor, um vor Ort zu sein, wenn es um eine vielversprechende Mission geht … immer unterwegs … like a Rolling Stone …
Traveller 5
Traveller 5 bietet einige spannende Regeln und Ideen, die wir in der ersten Staffel allenfalls gestreift haben. Das ganze Thema der Klone und Synthetics, der künstlichen Intelligenz und Roboter, die als Charaktere gespielt werden können, würde ich gerne erkunden; genauso wie jede Art von Aliens, die als Spielercharaktere offen stehen, und Beasts, die Hindernis und Ziel abenteuerlicher Missionen sein könnten. Die Variationsbreite der Erschaffungsregeln in Traveller 5 ist da sehr groß: von mikroskopisch kleinen Wesen bis hin zu monumentalen Space-Leviathanen, mit unerwarteten ökologischen Nischen, und wirklich sehr ungewöhnlichen Aliens, mit uns fremden Sinnes- und Kommunikationsqualitäten. Und dann die extrem hohen Tech-Level: Higher Order Jump Drives, die 10, 100 oder gar 100.000 Parsecs pro Sprung schaffen, Grey Goo, Ringworlds, Reality Manuipulation, Singularity …
Das Domain Game würde ich nicht forcieren, aber definitiv dafür offen sein. Traveller 5 bietet einige Regeln, die dafür wie geschaffen sind. Social Status, Adelsränge, Land Grants, Raumschiffe und Resource Units usw. Insofern würde ich der Erschaffung von neuen Charakteren nach den vollständigen T5-Regeln gerne den nötigen Platz einräumen. Charaktere, die das Glück haben, etwas Land zu besitzen, sind automatisch Patrons, die gelegntlich auf ihrem Landbesitz nach dem Rechten sehen sollten. Ein hoher Rang, der sich aus der Charaktererschaffung ergeben könnte, impliziert, dass der Charakter Bedienstete oder Untergebene hat, und über einen entsprechenden Einflussbereich verfügt. Das Domain Game muss in Traveller gar nicht extra aufgesetzt werden. Es ist eigentlich schon immer fest integrierter Bestandteil der Regeln.
In jedem Fall werde ich die Kampagne mit 1:1-Timing weiter laufen lassen. Und falls wir erst in 2 oder 5 Jahren weiter spielen, wären dann eben auch in der Spielwelt 2 oder 5 weitere Jahre vergangen.
Mulzac Straw räkelt sich genüsslich in der Eignerkampine der Dark Moon. Vor wenigen Minuten ist er von einem vertrauten Rumpeln geweckt geworden. "Captain Straw" knistert es über das Intercom, "in knapp 30 Minuten sollten wir den Sprungraum verlassen. Der neue Raketenwerfer ist einsatzbereit!" Straw wirft einen zufriedenen Blick auf den fürstlichen Kaperbrief, den er eingerahmt über das luxuriöse Bett gehängt hat: "dann wollen wir sehen, ob der Jewell-Subsektor hält, was er verspricht …"